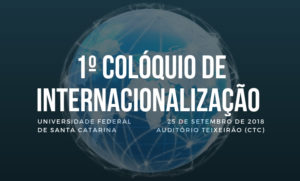 The Office of International Relations (SINTER) at the Universidade Federal de Santa Catarina (UFSC) promotes the I UFSC Internationalization Colloquium. The event will take place on 25 September 2018, from 9 a.m. to 5 p.m., at the Teixeirão Auditorium – School of Technology (CTC). The Colloquium is open to the academic community, without need of prior registration.
Aimed at faculty, staff and students interested in participating in the University's internationalization process, the event seeks to involve all areas of UFSC in a cultural transformation that will foster its international vision.
UFSC's Secretary for International Relations, Lincoln Fernandes, points out that "we wish to break paradigms and encourage the university community to explore new possibilities. The objective is to insert internationalization into every routine, action and project".  Prof. Fernandes will open the event with a lecture about UFSC's actions towards the consolidation of its internationalization process.
The event will also host a lecture by the former president of the Brazilian Association for International Education (FAUBAI), Prof. José Celso Freire Jr, from Universidade Estadual Paulista (Unesp). FAUBAI aims to promote the improvement of exchange programs and international cooperation bringing together international relations representatives from 250 Brazilian Higher Education Institutions. A round table with educational representatives from Germany and Ireland will also be promoted for faculty and students interested in internationalization.
Schedule:
9 – 10 am: opening and lecture by the Secretary for International Relations, Lincoln Fernandes, about UFSC's internationalization process
10:30 – 12 am: round table about the importance of internationalization and international opportunities
12 am – 3 pm: networking lunch at Slaviero Hotel (the event is not responsible for participants' lunch costs)
3 – 4:30 pm: lecture by Prof. José Celso Freire Jr., from Universidade Estadual Paulista (Unesp), about the internationalization of Higher Education Institutions