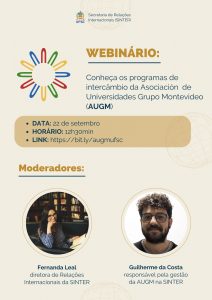 On 22 September, at 12:30 p.m. (Brasília time), the Office of International Relations (SINTER) promotes the webinar "Learn about the AUGM exchange programs", in order to present the Asociación de Universidades Grupo Montevideo [Association of Montevideo Group Universities] (AUGM) and its exchange opportunities for undergraduate and graduate students, as well as for technical-administrative staff and faculty members.
The online event will have SINTER representatives acting as moderators: Fernanda Leal, Director of International Relations, and Guilherme Carlos da Costa, responsible for managing the AUGM programs at UFSC.
The webinar will be streamed live  on the UFSC Internacional YouTube channel. Participation is free and open to the community.