SINTER promoted on 8, 9 and 10 September 2021, the second training to UFSC campuses internationalization agents. The nomination of internationalization agents is an initiative that aims at socializing the knowledge of procedures relating to the university internationalization, especially with regards to serving the national and international UFSC community.
The training seeks an integration of the multicampi UFSC and the preparation of the agents with the necessary practices to answer questions and contribute to the transversal internationalization at UFSC.
"The training of the internationalization agents is an action of SINTER, which aims at raising awareness about the importance of our internationalization process and its transversal characteristic, according to the UFSC Institutional Development Plan (PDI). We want to train the agents with regards to SINTER's competencies in relation to this process and highlight the need for all areas of UFSC to be committed to its international components. Without this commitment we will not reach the international level and excellence that our HEI proposes and deserves" Lincoln Fernandes – Secretary for International Relations – SINTER.
The meeting enabled a space for exchanging ideas and suggestions, in addition to answering the questions of the agents.
SINTER would like to thank the presence of all and wish a warm welcome to t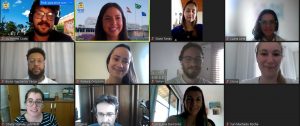 he team.
For more information about the internationalization agents access aqui.